HR Hotline: One of Our Employees Has a Protection Order Against a Coworker. Now What?
10.15.2018
Q: Our HR Manager has been given a Connecticut Superior Court Order of Protection by a current employee specifying that another employee must stay at least 100 yards away from her and refrain from any written, telephone, or electronic contact with her, including at home, work, or through other persons, where such contact would be likely to cause annoyance or alarm.
The employee against whom the order is filed is a current coworker with whom she normally has regular contact at work. Our workplace is too small to maintain the 100 yard separation. We don't want to take sides in this apparent personal matter, but it seems we are unavoidably involved. What is our responsibility in this situation?
A: Protection orders typically bar contact by an alleged perpetrator of domestic violence, sexual violence, or stalking with a person claiming to be a victim of such conduct.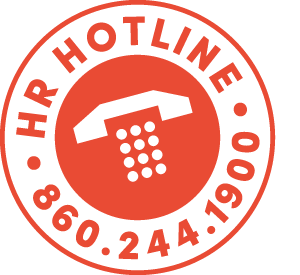 As an official order of the court, it's essential that employers do all that is reasonably possible to assist in implementing the designated restrictions applicable to the workplace, including contacting law enforcement if it appears one of the parties noted in the order may violate its terms.
Most often, protection orders are against non-employees but reference the workplace as a restricted location. In such cases, maintaining the employee's privacy and effectively managing workplace communications, access, and related security factors becomes an even higher priority.
When an issue arises between two coworkers in a facility where a safe separation or job reassignment is not possible, privacy may be less an immediate concern, but management may have to bar the alleged perpetrator from the workplace until the matter is resolved and/or the protection order lifted.
If the alleged perpetrator has used work time or equipment to engage in harassing or threatening conduct, a disciplinary conversation may be warranted independent of the protection order issues. If that's not the case, a more nonjudgmental discussion is nonetheless necessary.
But keep in mind that such situations can be volatile, fluid, and unpredictable, so no one-size approach can be relied upon. So, whereas suspending the alleged perpetrator may be effective in some cases, doing so at other times may aggravate the risk of violence.
If your employee has come to you with the protection order, it's likely she is willing to share some information about the situation.
A confidential follow up conversation may be helpful in exploring the best strategy to ensure safety and security for your employee, coworkers, and the workplace generally.
Listen to your employee, express concern and a willingness to explore suitable options, and respect her personal choices for assistance.
Having a workplace policy on domestic/sexual violence or stalking is a wise addition to your company's employee guidelines.
"At the same time, some outside resources may be helpful. The Connecticut Coalition Against Domestic Violence is a state membership organization of Connecticut's 18 domestic violence service agencies that provide critical support to victims, including safety planning, emergency shelter, court advocacy, counseling, and support groups, among other services.
CCADV's advocacy services can aid in evaluating options and safety plans, as well as provide broader training for workers and employers on how best to respond in domestic violence situations. A risk assessment with expertise from CCADV may aid in forming a suitable strategy.
Whether or not you've had to face these issues, having a workplace policy on domestic/sexual violence or stalking is a wise addition to your company's employee guidelines. CCADV and/or CBIA can help you develop a policy.
And don't forget to reference in your policy the availability of job-protected leave under state law that allows an employee who is a victim of family violence to take up to 12 days leave (paid or unpaid) to (1) seek medical care or psychological or other counseling for physical or psychological injury or disability, (2) obtain services from a victim services organization, (3) relocate due to such family violence, or (4) participate in any civil or criminal proceeding related to or resulting from such family violence.
Whether you're facing merely an issue of workplace productivity or a more serious safety matter, don't delay implementing suitable policies and strategies.
---
HR problems? Email or call Mark Soycher at the HR Hotline (860.244.1900) | @HRHotline
Tags:
Stay Connected with CBIA News Digests
The latest news and information delivered directly to your inbox.