HR Hotline: Are Employers Required to Pay Quarantined Employees?
05.25.2022
Q: With the recent increase in the number of COVID cases in Connecticut, so have the numbers of our employees who have tested positive. We have also had several employees tell us that they were exposed to COVID, either at home or at work.
If we send those exposed—but not sick—employees home to quarantine, do we have to pay them during their absence? Can we require them to use paid time off?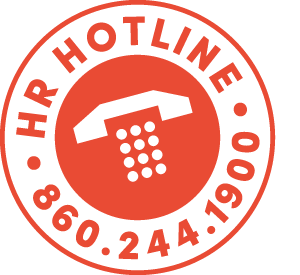 A: If quarantining employees are exempt and they worked any part of a work week, then yes, you must continue to pay them their regular salary during their absence, and you may not require them to use PTO time.
This is a wage and hour law specific to Connecticut. Although federal law allows employers to deduct time from an employee's PTO bank in such circumstances, Connecticut employers must follow the more restrictive state law applicable to exempt employees.
In Connecticut, employees are "exempt" from certain wage and hour rules if they meet both the "duties test" and the "salary test."
In general, Connecticut recognizes exemptions for administrative, executive, professional, and some sales positions.
To be exempt, an employee must also be compensated on a "salary basis," which means that the employee receives a predetermined amount for each pay period, regardless of the number of days or hours worked, and regardless of the quality or quantity of work produced.
There are five exceptions to this rule, providing for allowable reductions in salary, outlined in Connecticut's regulation 31-60-14(b).
Exempt Status
For example, an employer may take deductions from an exempt employee's pay when the employee is out sick for a full day, and they have exhausted their available PTO.
For our purposes, it is important to know an employer's decision to send a healthy employee home to quarantine—even when such a decision is recommended by the CDC—does not justify a reduction in either salary or benefits if that employee worked at some point during the workweek.
If an employer reduces the employee's salary or benefits during such an absence, the employee loses their exempt status, and going forward, will be eligible for overtime compensation for any hours worked over 40 in a work week.
Keep in mind that this rule only applies when the employer—not the employee—makes the stay-at-home decision.
If the employer makes work available but the employee decides to quarantine, the time is considered "personal time" under the regulations. In this case, the employer generally may take deductions from either salary or PTO banks.
Refer to the regulation above for specific requirements.
Non-Exempt Employees
Non-exempt employees are not subject to this rule.
Thus, an employer need only pay a non-exempt (generally, hourly) employee for hours actually worked, and not for time spent quarantining.
Employers should consider this wage and hour rule as they draft—and often revise, as the pandemic progresses—their COVID policies.
For example, since the CDC recommends quarantine for only unvaccinated individuals exposed to COVID, and employers may be required to pay quarantining employees, employers may decide to mandate the vaccine.
In the alternative, employers may decide to allow exposed employees to continue working—thus preventing the wage and hour issue—but risk exposure to the rest of their workforce.
Unfortunately, COVID continues to present significant challenges for employers across the state.  
---
HR problems or issues? Email or call CBIA's Diane Mokriski at the HR Hotline (860.244.1900) | @HRHotline. The HR Hotline is a free service for CBIA member companies.
Tags:
Stay Connected with CBIA News Digests
The latest news and information delivered directly to your inbox.